Garmin
Easy-to-use GPS running watch in multiple color options and 2 sizes.
Running-multisport watches and heart rate monitors
010-01039-16
- 30%
Characteristics Garmin Forerunner 10 Black/Orange
Every mile matters. And now there's a stylishly simple way to capture each one. Forerunner 10 is a GPS running watch that tracks your distance, speed/pace and calories. It also identifies your personal records and provides motivation along the way.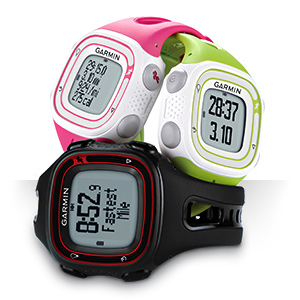 Ready to Run
Forerunner 10 is so easy to use, you can start your run with the press of 1 button. As you run, you can see your time and distance clearly displayed on 1 screen and calories and pace on another. You can also customize the settings to show pace and distance on the same screen.
It Fits
It's the lightest, most comfortable watch of Garmin and is available in sporty green, pink, or black with red accents. The black and red model has a slightly larger watch face and wider wristband. All models can be worn as a regular watch, so your running partner is always on hand. For typical use (GPS on 30 minutes per day), the battery life is 10 days. If used continuously with GPS on, the battery life is 5 hours.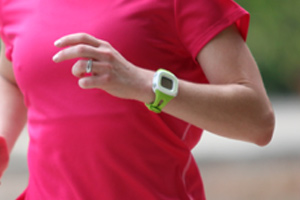 Motivating Feedback
As you run, Forerunner 10 automatically alerts you when you complete each mile, giving you a friendly beep and a screen that flashes your time for that mile. When you complete your run and save it, you'll see a summary of how you did, including your total time, distance, average pace and calories. The watch even lets you know when you achieve a personal record, like your fastest mile or longest run to date.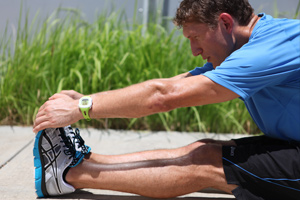 Training Tools
For runners who want a little more, Forerunner 10 has a couple of simple training features like Virtual Pacer™, which compares your current running pace to your target. It also has a run/walk feature that's helpful if you're just starting out or your running plan includes walk breaks.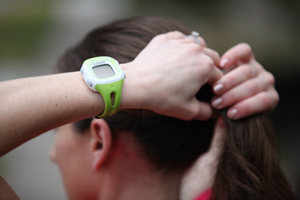 Store and Share
With a simple connection to your Mac or PC, you can upload your runs to Garmin Connect™ to see your run on a map, get more detail on each mile and share it with friends — all for free. You'll be even more motivated when you see your miles add up in Garmin Connect and can go back and see how you've improved from last week, last month or last year.
Specs:
Physical & Performance:
· Unit dimensions, WxHxD:
LARGE SIZE; 1.79" x 2.25" x 0.62" (4.55 cm x 5.72 cm x 1.57 cm)
*Black/Red:
*Orange
· Display size, WxH:
0.98" x 0.94" (2.5 cm x 2.4 cm);
SMALL SIZE; 1.58" x 2.05" x 0.62" (4.01 cm x 5.22 cm x 1.57 cm)
*Pink/White
*Green/White
*Violet/White
*Black/Silver
· Display size, WxH: 0.81" x 0.77" (2.1 cm x 2.0 cm)
· Display resolution, WxH: 55 x 32 pixels
· Touchscreen: no
· Weight: Black/Red: 43 g (1.5 oz); Pink/White & Green/White: 36 g (1.3 oz)
· Battery: rechargeable lithium-ion
· Battery life: 5 weeks in power save mode; 5 hours in training mode
· Water resistant: yes (50m)
· GPS-enabled: yes
· High-sensitivity receiver: yes
Maps and Memory:
· Basemap: no
· Ability to add maps: no
· Accepts data cards: no
· History:7 activities
· Waypoints/favorites/locations: 0
· Routes: 0
Features and Benefits:
· Heart rate monitor:no
· Bike speed/cadence sensor: no
· Foot pod: no
· Automatic sync (automatically transfers data to your computer): no
· Garmin Connect™ compatible (online community where you analyze, categorize and share data): yes
· Virtual Partner® (train against a digital person): no
· Virtual Racer™ (compete against other activities): no
· Courses (compete against previous activities): no
· Auto Pause® (pauses and resumes timer based on speed): yes
· Auto Lap® (automatically starts a new lap): yes
· Auto Scroll (cycles through data pages during workout): no
· Multi-sport (changes sport mode with a press of a button): no
· Advanced workouts (create custom, goal-oriented workouts): no
· Pace alert (triggers alarm if you vary from preset pace): no
· Time/distance alert (triggers alarm when you reach goal): no
· Vibration alert: (choose between alert tones and/or vibration alert): no
· Interval training (set up exercise and rest intervals): no
· Heart rate-based calorie computation: no
· Swim metrics (stroke type, stroke count and pool lengths): no
· Training Effect (measures impact of an activity on your aerobic fitness): no
· Customizable screen(s): yes
· Barometric altimeter: no
· Unit-to-unit transfer (shares data wirelessly with similar units):no
· Power meter compatible (displays power data from compatible 3rd party ANT+™-enabled power meters): no
· Temperature (displays and records temperature while you ride): no
· Shock Resistant: yes
· Sport watch: yes
Additional:
· Virtual Pacer™ (compares current running pace to target): yes
· Personal Records: yes
· Run/walk feature: yes
In the Box:
· Forerunner 10
· Charge/data cable
· Manual
Other products related to Garmin Forerunner 10 Black/Orange
Shipping Garmin Forerunner 10 Black/Orange
Delivery feeFree delivery on orders over 200 pounds
Estimated deliveryDelivery 1 working day
Delivered at
Delivery is important to us. We will do our very best to deliver your order on time.
A card will be left if no one is home and the goods returned to the carrier's local depot to await your contact.
Please note that if you order more than one product, you might receive them on different days and/or with different transport companies; in this case too we do our very best to respect delivery time of all the products ordered.
It may be necessary for you to assist or move merchandise into your home, this is especially relevant if you live in a block of flats as carriers will only deliver to the ground floor entrance to the block.
If you cannot find the information you need or you have a question for us, please send an e-mail to customercare.eu@fitnessdigital.com. We are pleased to help you.
Delivery 1 working day
For all products stating "delivery: 1 working day" at fitnessdigital, normal delivery is the next working day. (occasionnaly 2 working days depending on the destination). Orders for 1 working day delivery must be placed by 14:30 from Monday to Friday. Orders are delivered on working days only from Monday to Friday.
Payment methods Garmin Forerunner 10 Black/Orange
Cash On Delivery
You will receive the order at the registered address and the payment is made on delivery in cash. The cash on delivery option is only available for orders of 150 € or more.
Credit card
Pay securely with the following credit cards: VISA, VISA Electron, 4B, or Mastercard
or with an authenticated credit card (Verified by Visa / Mastercard SecureCode).
If you have a credit card that allows you to purchase in internet, and you have a code or password that allows you to pay on-line, this is a good and comfortbale way to pay for you. Payment on-line means that your order will be paid for right after checkout, and is therefore very fast. fitnessdigital.sk is 100% secure. We guarantee the safety of your credit card information. All credit card information is handled with the utmost security and will never be released to any other organisation under any circumstance.
PayPal
Your order will be sent upon receipt of the PayPal confirmation of payment of the full amount. What is PayPal?
fitnessdigital could sometimes ask a customer to use a certain payment methods ( for instance if the information given to us is not complete or seems to include false information). This could be the case when we are not able to properly identify who the customer is. We could sometimes ask for specially added documents as well, in order to prove payment
Delivery costs, delivery time and terms and conditions for free delivery are the same for all payment methods
Cash On Delivery payments can be made in the local currency (€).
***If the warranty is longer than two years, it will be shown in the product description.
Warranty information
FitnessDigital.com is an official distributor, therefore we can
WARRANT THAT:
The product is new
The product comes in its original packaging
As we are official distributors, we offer after sales service for all the products of this brand
The brand
Dr. Min Kao co-founded Garmin Corporation with Gary Burrell in October 1989 to integrate Global Positioning System (GPS) technology into navigation devices for multiple markets. Since its creation with 1,000 employees the company has grown and has now more than 9,200 associates in 35 offices worldwide. Garmin is a leading, worldwide provider of navigation and fitness products. They are committed to making superior products for automotive, aviation, marine, outdoor and sports that are an essential part of their customers? lives.
Garmin offers a wide range of products all over the world. Their user-friendly products are not only sought after for their compelling design, superior quality and best value, but they also have innovative features that enhance the lives of their customers. Garmin GPS solutions are a key part of today?s most useful, versatile and cost-efficient fleet monitoring solutions. With Garmin on your side, drivers and dispatchers work together to improve customer response and optimize fleet resources to achieve lower costs and higher profits.
Comparative Garmin Forerunner 10 Black/Orange
User reviews about Garmin Forerunner 10 Black/Orange
4.8 about 5
Ask the expert about Garmin Forerunner 10 Black/Orange
In this section you can find answers from our users and experts
0 Questions 0 Answers